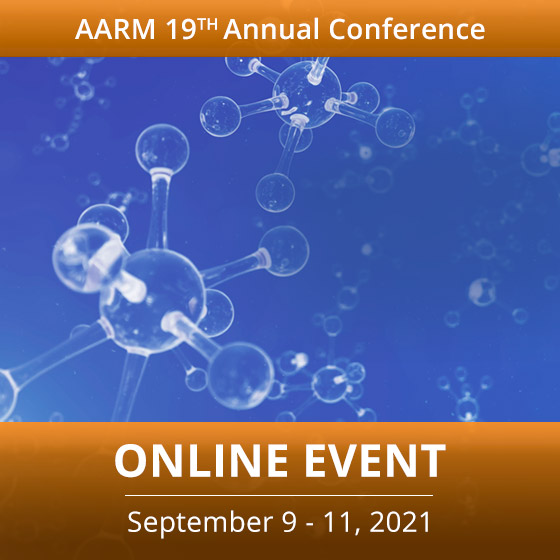 US$625.00
Note: This is for the Main Conference only and does not include the Peptide Workshop.  It does include access to the T3 Certification talks but the exam is extra.  For Full Access Pass (Main Conference plus Peptides Workshop), click here.
AARM Members: Check this box to save $125 off conference registration. Includes conference recordings. (Membership will be verified).
 Non-Members: Check this box to receive a complimentary 1-year AARM Membership
Students: Check this box to save $425 off conference registration (verification required).
T3 Certification exam is available below as an add-on.
---

Interested in our T3 Certification Program? The T3 Certification talks are included in the Main Conference Pass but the T3 Certification exam is extra, be sure to add it to your conference purchase! Click here to learn more about the program.
---
Conference Recordings
If you are a current AARM Member (prior to registering for 2021 Annual Conference) you will receive the Conference Recordings at no charge.
If you became a Member with your 2021 Conference Registration and would like the Conference Recordings, the cost is $125.
If you are interested, please click the "Add Conference Recordings" button above.
Note: All classes are recorded except for the Peptide Course