Conference Topics Include
T3 Therapy Certification
Sub-laboratory Hypothyroidism
Pain
Botanical Pharmacology
HPA Axis
Iodine Biochemistry
Adrenal Dysfunction
Hashimoto's Disease
Iodine and Cancer
Neurotransmitters
Depression
Cannabinoids
Thyroid Hormone and Liver Function
Neuroscience
Gluten Sensitivity
Mind-body Connections
Person-Centric Medicine
Vitamin K2
Detoxification Diets
Holistic Dermatology
Novel Hormone Replacement Therapy
Botanical Medicine Research
Autoimmune Disease
Homocysteine
Hormones and Digestion
Diabetes Trends
Women's Hormones
Natural Hormone Therapy
The registration price for a AARM Restorative Medicine Conference includes continuing education credits.
Attending an AARM Restorative Medicine Conference is a small investment in your practice that will provide big returns. You'll be able to attract new patients to grow your practice and offer additional treatments to existing patients. Restorative Medicine is a growing discipline that is in high demand as the population ages — building your clinical knowledge in this area by attending an AARM conference is a wise business decision.
Conference Co-sponsor Organizations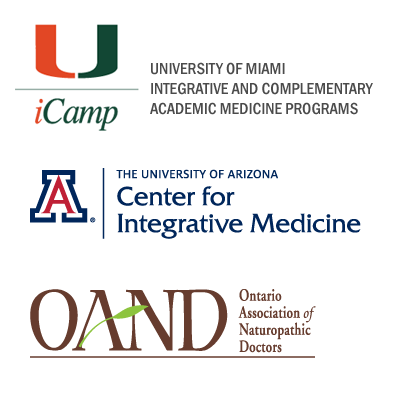 AARM is proud to co-sponsor continuing medical education events with medical universities and professional medical associations:
2017 University of Miami Integrative and Complementary Academic Medicine Programs, Clinical Nutrition Conference Series, co-sponsor
2017 Tucson Annual Restorative Medicine Conference, co-sponsored by University of Arizona Center for Integrative Medicine
2016 and 2017 Toronto Regional Restorative Medicine Conference, co-sponsored by Ontario Association of Naturopathic Doctors (OAND)
Summary of Conferences
Annual International Restorative Medicine Conference
The Annual International Restorative Medicine Conference is the original and still the biggest conference that AARM offers. Physicians and other health care providers from many disciplines and countries come together for four days of intensive multi-track education sessions in a spectacular natural setting. The conference is held in the fall each year and the location rotates among different regions of the U.S. Attendees can choose from lectures in several tracks, and visit more than 30 exhibits by leading vendors.
---
Toronto Regional Restorative Medicine Conference
For naturopathic doctors and medical doctors practicing in the Greater Toronto Area, Eastern Canada, and the Northeastern U.S., our Toronto regional conference is conveniently located. Held in early February in downtown Toronto, this conference brings together practitioners who want to learn more about prescribing hormones and using botanical medical treatments.