Conference Overview
Lyme disease is a growing health risk in Canada, and the number of Lyme cases reported in Canada has risen sharply in recent years. AARM believes it's important to offer updated education and protocols, knowing that many of these new Lyme patients will be searching for naturopathic doctors and their effective treatments. Chronic infections and environmental toxins can confound the clinical picture, but fortunately naturopaths have the unique ability to identify the root causes and provide supportive and curative treatments. We hope you find tremendous value in the information the expert clinicians and researchers who are speaking at this conference have to offer on these topics.
Topics covered:
Fundamentals of immunology in chronic disease
Optimizing multiple facets of the immune system
Clinical and lab diagnostics for Lyme and other chronic infections
Adrenal and thyroid optimization for chronic infections
Diagnosing and treating stealth infections
Clinical pearls for treating complex cases
How infections are accelerated by mold and environmental toxins
Identifying Lyme disease-related conditions:
Multiple Chronic Infectious Disease (MCIDS)
Cell Danger Response (CDR) and chronic inflammation
Mast Cell Activation Syndrome (MCAS)
Chronic Inflammatory Response Syndrome (CIRS) protocols

In this video about the Toronto Restorative Medicine Regional Conference, several physicians discuss why the conference is valuable to practitioners.
Conference Schedule
Click on a course title for a description
Saturday, February 3
Time
Event/Speaker
8:00 AM-8:45 AM
Registration and Exhibits
8:45 AM-9:00 AM
Welcome
9:00 AM-10:00 AM
Immunology Fundamentals and Current Updates
Heather Zwickey, PhD
10:00 AM-11:00 AM
Optimizing the Immune System in Chronic Infections
Heather Zwickey, PhD
11:00 AM-11:30 PM
Break and Exhibits
11:30 AM-12:30 PM
Herbal Medicine For Chronic Infections, Part 1
Jill Stansbury, ND
12:30 PM-2:00 PM
Lunch on your own. Exhibits open.
2:00 PM-3:00 PM
Herbal Medicine For Chronic Infections, Part 2
Jill Stansbury, ND
3:00 PM-4:00 PM
Identifying and Resolving the Lyme Paradox, Part 1
Darin Ingels, ND
4:00 PM-4:30 PM
Break and Exhibits
4:30 PM-5:30 PM
Identifying and Resolving the Lyme Paradox, Part 2
Darin Ingels, ND
Sunday, February 4
Herbal Preparations – Teas and Tinctures Workshop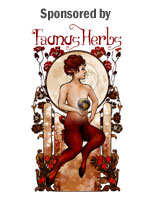 While attending this free, optional "hands on" class, we will make and blend organic herbal preparations. We will extract essential plant properties through various menstrums: teas, tinctures, vinegars, and oils. The workshop will be led by Penelope Beaudrow, registered herbalist. Thanks to a generous donation from Faunus Herbs, each workshop participant will receive a 60ml tincture and some loose tea blended in the workshop. This event will be repeated twice during the regional conference at the following times. Each session is limited to 35 participants.
Conference Faculty
Darin Ingels, ND, FAAEM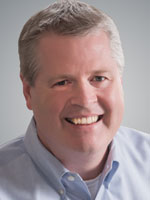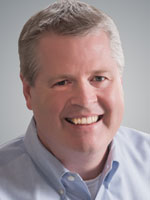 Dr. Ingels is a respected leader in natural medicine with numerous publications, international lectures and more than 25 years experience in the healthcare field. He has been published extensively and is the author of two books, The Natural Pharmacist: Lowering Cholesterol (Prima, 1999) and Natural Treatments for High Cholesterol (Prima, 2000). He has also written a chapter on allergy desensitization for autistic children in Cutting Edge Therapies for Autism (Skyhorse, 2014). Dr. Ingels is the author of the upcoming book on Lyme disease The Lyme Solution: A 5-Part Plan To Fight The Inflammatory Autoimmune Response And Beat Lyme Disease (Avery, 2018). Dr. Ingels' practice focuses on environmental medicine with special emphasis on chronic immune dysfunction, including Lyme disease, autism, allergies, asthma, recurrent or persistent infections and other genetic or acquired immune problems. Below you can listen to an excerpt from one of Dr. Ingels presentations.

Kelly McCann, MD, MPH & TM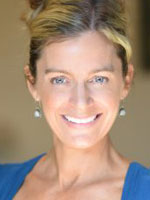 Dr. McCann received her Doctor of Medicine degree (MD) and simultaneously earned a Master's in Public Health (MPH) in Tropical Medicine (TM) at Tulane University in New Orleans. She completed both an Internal Medicine residency at Banner Samaritan Medical Center and a Pediatrics residency at Phoenix Children's Hospital in Phoenix, AZ. Dr. McCann practiced medicine at the Arizona Center for Integrative Medicine where she worked and trained with renowned Andrew Weil, M.D., as one of 35 distinguished fellows in residence throughout the world. After completion of the Fellowship, Dr. McCann became certified in medical acupuncture through the American Academy of Medical Acupuncture, studied environmental medicine and chelation with Dr. Walter Crinnion and biotoxins with Dr. Ritchie Shoemaker. She also attends numerous conferences annually including ILADS – International Lyme and Associated Diseases Society meetings, Membrane Medicine meetings regarding the PK protocol and other nutritional and integrative medicine trainings. Dr. McCann is on staff at Hoag Memorial Hospital in Newport Beach, California and has been in private practice in Costa Mesa since 2008. She founded Partners in Health at the Spring Center in August 2009.
Jill Stansbury, ND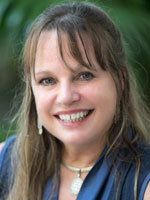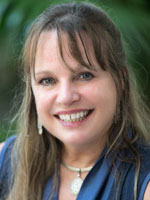 Dr. Stansbury has practiced in Southwestern Washington for over 25 years specializing in women's health, mental health, and chronic disease. Dr. Stansbury is the former Chair of the Botanical Medicine Program at the National College of Naturopathic Medicine in Portland, OR and remains on the faculty teaching natural products chemistry, botanical influences on cell biology, ethnobotany field course, and other miscellaneous topics in herbal medicine. She writes for numerous professional journals plus teaches around the country at a variety of medical and herbal conferences. She frequently travels to Cusco and the Peruvian Amazon, studying South American plants and working with various tribes in the jungles of Manu and Iquitos. Below you can listen to an excerpt from one of Dr. Stansbury's presentations.

Heather Zwickey, PhD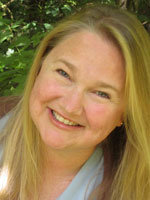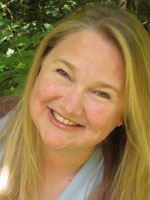 Dr. Zwickey is the dean of research and graduate studies at the National University of Natural Medicine (NUNM), director of Helfgott Research Institute, and professor of immunology. In 2003, Dr. Zwickey launched the Helfgott Research Institute at NUNM, where she applies her immunology expertise to natural medicine. She studies the immunological mechanisms involved in nutrition, herbal medicine, acupuncture, and mind-body medicine. Her current area of focus is the inflammatory components of Parkinson's disease. Dr. Zwickey has used her expertise in program development to establish the School of Research and Graduate Studies at NCNM, and serves as its leader. She has developed Masters programs in Integrative Medicine Research, Nutrition, and Global Health. Below you can listen to an excerpt from one of Dr. Zwickey's presentations.


Registration Prices
| Registration Type | After Jan. 12 |
| --- | --- |
| Regular | CA$360  US$290 |
| AARM Members | CA$300  US$240 |
| Students/2017 Grads | CA$100  US$80 |


Registration includes electronic download of presenter slides, food and beverages during a.m. and p.m. breaks, and CE credits. Lunch is on your own. 13% HST added to all registrations.
Continuing Education Credits
Earn up to 10 CE credits at the live conference and an additional 6 CE credits online after the conference (see Online University section below for details).
Credits have been approved by the College of Naturopaths of Ontario (CONO). CE Credit breakdown: 9 General CE, 5 Pharmacology CE, 2 Jurisprudence for Ontario NDs
This program has been accredited for California-licensed Naturopathic Doctors by the California Naturopathic Doctors Association (CNDA) for 10 CE hours, of which 8 are General CE hours, and 2 are Pharmacy CE hours.
CE credits for the live conference have been approved by the Oregon Board of Naturopathic Medicine (OBNM).
For British Columbia NDs: Category F/ Pharmacology CE will be available, pending approval (5 CE total).
This conference will be providing CE for naturopathic doctors only (in US and Canada). MDs, DOs, and NPs are welcome to attend, however there will not be CME available for these professions.
Location and Hotel
University of Toronto Chestnut Conference Centre
89 Chestnut Street
Toronto, ON
Located adjacent to the Toronto landmark of Yonge-Dundas Square and directly north of the city's Financial District, the University of Toronto's Chestnut Conference Centre is in the heart of the downtown core. The centre is only a 5-minute walk from the St. Patrick subway station, a 10-minute walk from Eaton Centre, and a 10-minute walk from Toronto's Financial District. There is a parking garage under the conference centre, with an early bird rate. If you need overnight accommodations, rooms are available at the Doubletree by Hilton hotel directly across the street from the conference centre.
Toronto Online University 2018
After the Toronto Restorative Medicine Regional Conference, you can earn 6 additional CE credits, including 2 jurisprudence CE and 3 pharmacology CE. The jurisprudence credits will be offered as a live webinar on February 23, at noon Eastern time. You will receive a link to listen to the recordings at your convenience. Simply watch the recorded seminars and take a short online quiz to receive your additional credits. The Online University includes the following:
The Brain and Wellbeing: Addressing Inflammation with Neuroendocrine Corrections
Erin Lommen, ND
(2 hours, 1 general CE and 1 Pharmacology CE)
Neurological Fitness is an area that is rapidly evolving. Inflammation is recognized as the underlying basis of a vast number of conditions and diseases. The neurological impact is profound. The integral relationship between the HPA axis (adrenal) and inflammation is direct. Utilizing markers which assesses the allostatic load on the system, and brings treatment recommendations into focus is invaluable for the integrative medicine practitioner.
By the year 2008, the Centers for Disease Control and Prevention (CDC) National Center for Health Statistics reported that Alzheimer's disease had surpassed diabetes as the sixth leading cause of death in the United States. A test as simple as the salivary adrenal/HPA axis panel reveals that we can identify early stages of dementia prior to the onset of actual dementia diagnosis and Alzheimer's.
Learn about accurate assessment of these inflammatory and neuroendocrine markers which will define treatment and prevention. Understand which hormones are neuroprotective (Estradiol, Progesterone etc.), and which ones can have a negative impact on brain health and aging (stress hormones; glucocorticoids). Learn about the most common neurodegenerative diseases in light of neurotransmitter levels, hormone levels and HPA Axis dysfunction. Discover how to optimize and physiologically balance of all of these parameters.
Teen Use and Effects of Combined Hormonal Contraception
Jerilynn Prior MD, FRCPC, ABIM, ABEM
(1 hour, 1 CE/ 1 Pharmacology)
Positive and negative effects on bone mineral density (BMD) have been described as a result of the premenopausal use of oral contraceptives (OCs); increased fracture rates have also been reported. Research suggest that oral contraceptives could halt osteoblast activity and prevent bone formation, particularly in teen girls and young women. It isn't clear if the cause is due to increased rate of bone loss or if bone building is being suppressed, or both. Dr. Prior will share her research on this topic and help physicians understand how to best help their young female patients regarding birth control.
Progesterone as Women's Bone-Anabolic Hormone—New Approaches to Osteoporosis Management
Jerilynn Prior MD, FRCPC, ABIM, ABEM
(1 hour, 1 CE/ 1 Pharmacology CE)
Dr. Prior has conducted research that seriously challenges estrogen's key role in preventing bone loss. Her research confirms that estrogen's role in combating osteoporosis is only a minor one. In her study of female athletes, she found that osteoporosis occurred to the degree that the athletes became progesterone-deficient, even though their estrogen levels remained normal. She will review her research with non-athletic women, and showing the same results. While both of these groups of women were menstruating they had anovulatory (non-ovulating), cycles, and were thus deficient in progesterone. As a result of her extensive research, she confirmed that it is not only estrogen…but progesterone which is the key bone-building hormone. Such studies seriously challenge the estrogen deficiency-osteoporosis link.
Demystifying Ontario Naturopathic Regulations, Live webinar on February 23, 2018 at 12-2 pm.
Kim Bretz, BSc., ND
(2 jurisprudence CE)
This presentation will provide an in-depth review of the topics of regulation of naturopaths in Ontario, Canada. It will review the topics of Naturopathic professionalism and standards of ethics. Dr. Bretz will frame and analyze ethical and policy-related issues attendant to providing health care, and answer any pre-submitted questions from attendees related to regulatory issues. Earn 2 Jurisprudence CE credits in this 2 hour live online webinar. Recordings will also be available.
Online Faculty
Erin Lommen, ND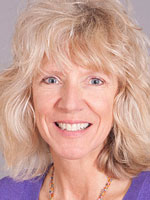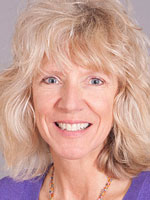 Dr. Lommen is a licensed naturopathic physician and is enjoying her 22nd year of clinical family practice and health optimization using natural medicine. She was a clinical investigator for a successful 5-year study through the NIH (National Institute of Health) on chronic disease. Dr. Lommen has taught as an associate professor at NCNM (National College of Naturopathic Medicine) for 10 years. Dr. Lommen is the CEO and Assoc. medical director of Labrix Clinical Services Inc. She is the co-author of the best-selling book on women's hormone balancing: Slim, Sane and Sexy; Pocket Guide to Natural, Bioidentical Hormone Balancing. Dr. Lommen is a medical interpreter for thermographic breast screening. Additionally, Dr. Lommen is a committed to educating other physicians in the principles of Natural Healing. She teaches hundreds of physicians each year on topics such as: Adrenal Health, GI Health, Women's Health and Bioidentical Hormone Balancing, PCOS and Metabolic Syndrome, Depression and Chronic Fatigue Syndrome.
Jerilynn Prior MD, FRCPC, ABIM, ABEM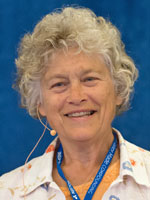 Dr. Prior is a professor of endocrinology at the University of British Columbia in Vancouver, Canada and scientific director of the Centre for Menstrual Cycle and Ovulation Research (www.cemcor.ca). She is a clinician-scientist whose work is internationally recognized. Her research and synthesis has shown the importance of progesterone as well as estrogen for women's bone, heart, and breast health. Also her research has shown that perimenopause is hormonally distinct from menopause, entailing higher rather than low or dropping estrogen levels. She graduated with honors from Boston University School of Medicine 1969. Dr. Prior is the author of Estrogen's Storm Season — Stories of Perimenopause and has recently co-authored The Estrogen Errors – -Why Progesterone is Better for Women's Health (2009, Praeger, Conn).
Kim Bretz, BSc., ND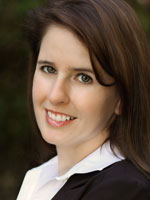 Dr. Bretz is a 2001 graduate of the Canadian College of Naturopathic Medicine (CCNM) and founder of Fundamentals of Health, a thriving naturopathic clinic in Waterloo, Ontario. She is a public speaker having presented to multiple corporations and agencies, guest lectures for Canadian universities in the areas of health promotion, functional foods and natural health products and runs continuing education for interprofessional health programs throughout North America in the area of GI health and the microbiota. For six years, Kim was part of Human Nature Network, a nationally syndicated radio program through CHUM radio, speaking in areas of women's health. She taught gastrointestinal physiology and endocrinology at the Canadian College of Massage and Hydrotherapy. She was also on the advisory board for Ferring Pharmaceuticals' natural health care products. And she is presently involved in research trials through Public Health and the Universities of Guelph and Waterloo, in the areas of antimicrobial resistance, as well as natural health products.
Sponsors and Exhibitors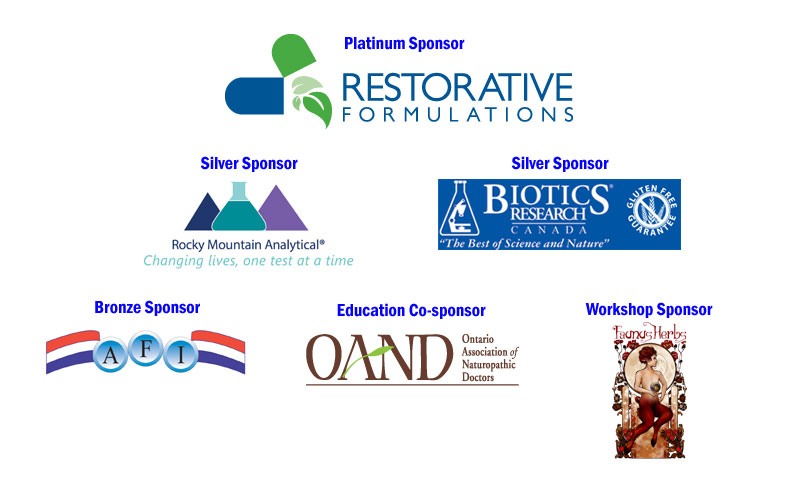 In addition, these companies are exhibiting at the Toronto Restorative Medicine Regional Conference
ArminLabs
Bioclinic Naturals
Cyto-Matrix Inc.
Designs For Health
Douglas Laboratories
FLUIDS iQ
Genestra Brands
IGeneX, Inc.
Nutritional Fundamentals for Health Inc. (NFH Inc.)
Pascoe Canada
People's Choice Pharmacy
Pure Encapsulations
Researched Nutritionals
SaunaRay Inc.
Signature Supplements Inc.
Smith's Pharmacy
The Great Plains Laboratory
York Downs Chemists
Cancellation Policy
If you wish to cancel your registration, you may do so before January 12, 2018 and receive a refund. All registrations made on or after January 12, 2018 are entirely non-refundable. Any cancellation request received on or after January 12, 2018 will be subject to a cancellation fee of 100% of the total cost of registration. All cancellation requests must be made in writing, by sending an email to conferences@restorativemedicine.org.