Pathophysiology Review
The pituitary is a small gland located below the brain in the skull base, in an area called the sella tursica. The pituitary gland is often called the master gland because it controls the secretion of all the major endocrine hormones. These compounds have broad ranging effects on metabolism, fluid control, growth, and sexuality.
The pituitary gland is divided into a larger anterior region (adenohypophysis) and a smaller posterior region (neurohypophysis). The gland is connected by the pituitary stalk to the hypothalamus, located directly above the pituitary gland. Because of the close proximity of the pituitary gland to the major intracranial nerves and blood vessels and its overall control of the endocrine systems, pathologies of the pituitary can cause a wide spectrum of symptoms, both hormonal and neurological.
Pituitary Hormones
Thyroid Stimulating Hormone (TSH)
TSH stimulates the thyroid gland to release thyroid hormones (T2, T3, T4). Thyroid hormones affect almost all cells of the body, controlling basal metabolic rate and playing a crucial role in growth. Excess TSH is the cause of secondary hyperthyroidism. TSH deficiency causes secondary hypothyroidism, which can result in short height with short extremities.
Growth Hormone (GH)
This hormone is a peptide produced and secreted by the anterior pituitary gland. GH is stimulated by growth hormone-releasing hormone (GHRH) and is inhibited by somatostatin. The pituitary produces more GH than any other hormone. GH does not exert all its effect directly. Many of its effects are caused by insulin-like growth factor (I-GH), also known as somatomedin-C.1
GH is the principal hormone regulating growth. It stimulates not only muscle and bone growth, but also the growth of internal organs. It has anabolic activity, stimulating bone and muscle growth in childhood. GH also functions to raise blood sugar levels by gluconeogenesis and works as an antagonist of insulin.
GH naturally decreases by 14% per decade after age 20. When the hormone is secreted in excess, it causes gigantism (acromegaly). Excessive GH replacement therapy has been shown to cause cardiac hypertrophy, carpal tunnel syndrome, diabetes, and musculoskeletal tissue disorders.
Deficiency causes dwarfism when it occurs during growth. In adults, GH deficiency is also linked to decreased life expectancy, cardiovascular disease, and bone loss. Deficiency is caused by chronic stress, cortisol, progesterone, serotonin antagonists, obesity, hyperthyroidism, and hyperglycemia.
Adrenocorticotropic Hormone (ACTH)
ACTH triggers the adrenal cortex to release glucocorticoid steroids (cortisol and cortisone) and mineralocorticoids (11-Deoxycortiocsterone and aldosterone). ACTH deficiency causes secondary hypoadrenocorticism (Addison's disease). ACTH excess causes hyperadrenocorticism (Cushing's disease).
Leuteinizing Hormone (LH) and Follicle-Stimulating Hormone (FSH)
These hormones control reproduction. LH promotes ovulation and progesterone production in females and testosterone production in males. FSH promotes ovum formation and estrogen production in females and spermatozoa formation in males.
In females, a deficiency of LH is associated with PMS, while a deficiency of FSH is associated with PCOS. A deficiency of both LH and FSH is the cause of amenorrhea of pituitary origin. Conversely, excess LH is seen in PCOS, while excess FSH contributes to PMS. The most common cause of a combined excess of LH and FSH is menopause. In males, LH deficiency causes hypogonadism, while FSH deficiency is associated with infertility.
Prolactin (PRL)
This hormone stimulates secretion of breast milk by stimulating the mammary glands. It also suppresses ovulation and stimulates the thymus gland.
Excess prolactin is associated with a high estrogen/ progesterone ratio, infertility, galactorrhea, and polycystic ovary syndrome (PCOS). Insufficient prolactin is associated with deficient lactation.
Anti-Diuretic Hormone (ADH)
Also known as vasopressin, this hormone promotes water retention by increasing the kidney's reabsorption of sodium at the distal renal tubules. ADH promotes the production of concentrated urine.
A deficiency of ADH causes diabetes insipidus. Excess ADH causes hypervolemia and hypertension.
Quick Reference: Pituitary Disorders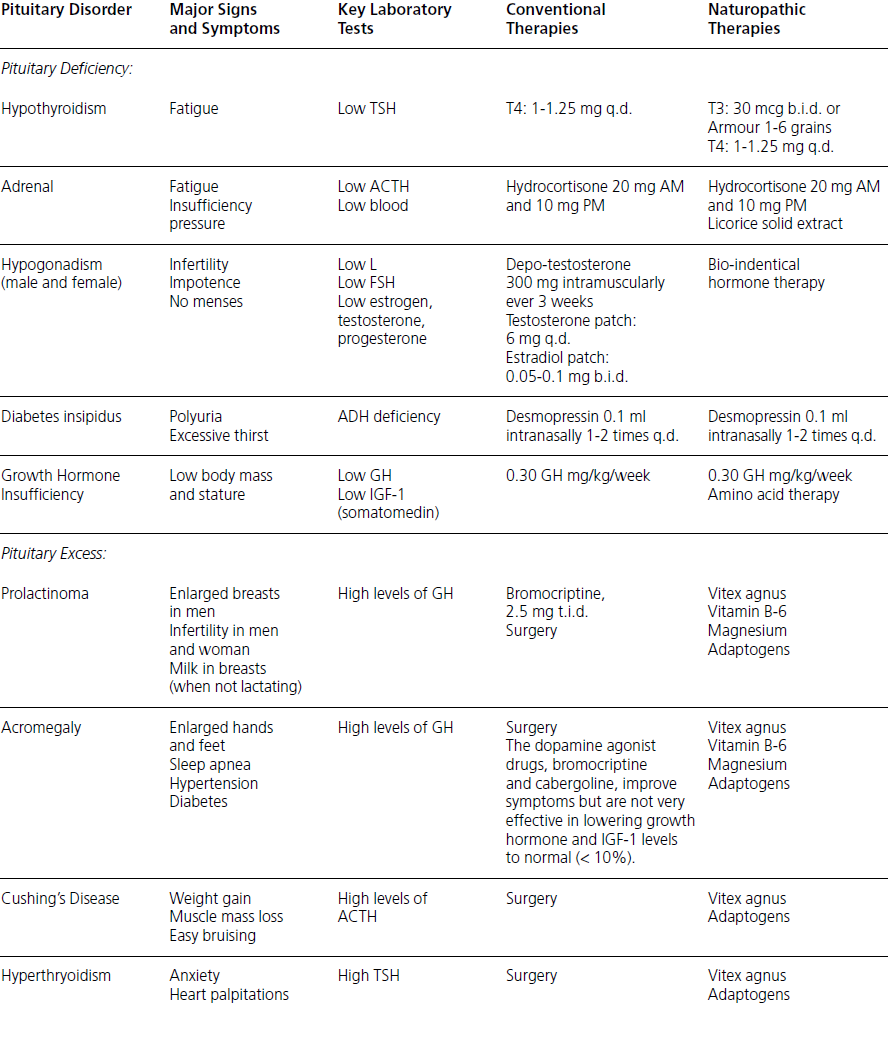 Note: Many naturopathic therapies for hormone deficiency are similar to conventional therapies. In cases of pituitary excess, specific naturopathic approaches would use dosing of Vitex agnus castus (chasteberry) from 20-200 mg t.i.d. and adaptogenic herbs 500 mg – 3 grams t.i.d. However, in severe cases surgery might still be needed.
Hypopituitarism (Pituitary Insufficiency)
Pituitary insufficiency is defined as failure of the gland to make one or more of the following anterior pituitary hormones: growth hormones (GH), prolactin (PRL), adrenocorticotropin (ACTH), thyrotropin (TSH), leuteinizing hormone (LH), or follicle-stimulating hormone (FSH).
Hypopituitarism can be caused by factors that disrupt normal pituitary function. These include pituitary, hypothalamic, or parasellar disease, which causes displacement, infiltration, or destruction of the gland. Examples include meningiomas, craniopharyngiomas, optic nerve gliomas, nasopharyngeal tumors, and pineal dysgerminomas.
If damage is located at the pituitary stalk, all the anterior pituitary hormones (TSH, LH, FSH, GH, and ACTH) decrease, while prolactin (PRL) rises. This rise in prolactin results from the loss of the inhibitory effect of hypothalamic dopamine on the lactotrophs.