September 12-15, 2019
Paradise Point Resort, San Diego, CA
Location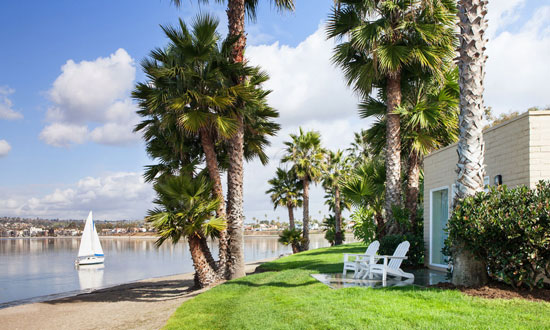 Tucked away on gentle Mission Bay in the heart of San Diego, Paradise Point Resort & Spa features comfortable bungalow-style guestrooms amidst lush, tropical gardens, tranquil lagoons, and one mile of sandy beach next door to SeaWorld. Scattered across the 44-acre island are five swimming pools, beach bonfire pits, a marina, five dining venues, an award-winning spa and endless recreation options. Paradise Point and its amenities offer a unique San Diego resort vacation experience for both families and couples with a location that is secluded, yet centrally situated; the airport, downtown San Diego and top attractions including Old Town, the San Diego Zoo, and Balboa Park are all just minutes away.
Airport: Paradise Point is 4 miles from the San Diego International Airport, less than a 15-minute drive.
Room Rate: Guest rooms at Paradise Point will be available for $219 per night, plus tax.
Registration
Attendee registration will open in April 2019.
Exhibitor registration is now open. For more information about exhibitor registration or conference sponsorship, contact Craig Palmer at 941-894-7394 or email craig@restorativemedicine.com
Certification In T3 Therapy
Optimize Body Temperature and Thyroid Function with Hormones, Botanicals and Nutrition
Attend the T3 Certification track on Thursday, when clinicians will gain a better understanding of the connection between thyroid dysfunction and low body temperature. Dr. Denis Wilson will explain why T4 to T3 conversion may be compromised in peripheral tissue, and how that can trigger a multitude of chronic symptoms. Treatment protocols will be provided for low body temperature symptoms. The T3 Certification exam will be offered at the conference.
Benefits of T3 Certification
Each year, thousands of potential patients visit the AARM website looking for a provider certified in T3 therapy to treat low body temperature. Certification in T3 therapy is an excellent means to build your practice, as AARM members who are certified in T3 therapy are indicated in the online member directory. Medical providers can obtain certification in T3 therapy by attending the five required classes in the T3 Certification Track on the preconference day at the Annual International Restorative Medicine Conference, and passing the optional certification exam at the end of the day. The T3 Certification Track provides:
Evidence-based review of low body temperature and associated symptoms
Treatment protocols for optimizing thyroid health and body temperatures
Protocols for triiodothyronine (T3), botanicals, and nutritional medicines to support the thyroid system
Identify appropriate testing methods and ideal hormone levels
Identify hypothalamic-pituitary-adrenal axis dysfunction and its role in serum glucose imbalance, MS, depression, and arthritis
Use of botanicals, nutrients, and lifestyle factors to restore adrenal insufficiency and HPA balance
In the video below, Dr. Wilson discusses Wilson's Temperature Syndrome and Certification in T3 Therapy.