Registration Now Open!
---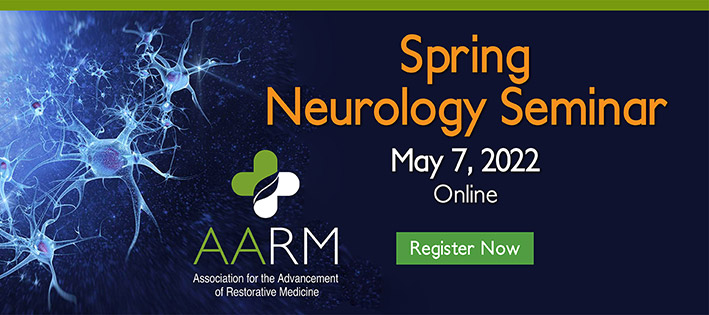 ---
All Registrations Now Include a Two For One:
Bring a Colleague for Free, and Both of You Get CME Credit!
---
Overview
The 2022 Spring Neurology Seminar takes place online May 7, 2022. Registration includes access to session recordings. Participants who miss a session can view the recording at their convenience.
Seminar Topics
Photobiomodulation
Neurofeedback
Autonomic Dysfunction
Neurodegenerative Disorders
Paroxysmal Disorders
Alzheimer's and Parkinson's Diseases
Neuroprotective Effects of Herbal Medicines
Glymphatic System
Environmental toxins and Infections
Multiple Sclerosis
The prevalence of neurological conditions is growing exponentially, with multiple sclerosis, Alzheimer's disease, Parkinson's disease, and others becoming more common. Environmental risk factors – including exposure to toxins and infections – have been associated with developing a neurodegenerative condition. For the first time, AARM is presenting this one-day seminar to help clinicians understand the underlying pathology of neurological conditions and treatment approaches.
The 2022 Spring Neurology Seminar will feature presentations from three leading Restorative Medicine clinicians. They will discuss identifying the causes of neurodegenerative diseases, approaches to stop losses, and neuro-regenerative strategies. They'll also share protocols and recommended medications, both herbal and pharmacological.
The 2022 Spring Neurology Seminar has been approved for 2 CME credits.
Conference Faculty

View All Speaker Bios